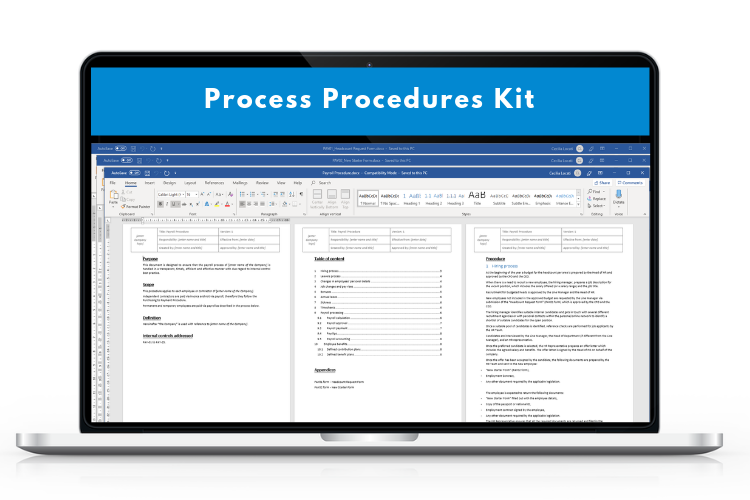 What if you could write process procedures  IN MINUTES?
Without spending days to write up all your notes, make sure they are comprehensive and put everything toghether in a clear layout...
...and set them up in just minutes of work?
You dread the idea of spending LONG and PAINFUL HOURS writing procedures.
You are struggling to strike a balance between WRITING TOO MUCH and covering all the key points.
You fear that auditors might find your procedures INCOMPLETE and not good enough.
You are UNSURE about how to structure the content for maximum clarity.
You have two choices:
1) You START FROM A WHITE WORD DOCUMENT (or from some less-than-ideal  templates you found online for free)
OR
2) You DOWNLOAD the Process Procedures Kit and get:
READY-MADE short but COMPREHENSIVE procedures.

CLEAR layout that is easy to follow.

AUDIT PROOF documents covering all key controls.
There is no need to agonize over it. Just get our pre-written procedures.
The Process Procedures Kit provides you with all the procedures and forms which we developed in over 10+ years of consulting experience.
These top-notch documents helped several companies to implement strong process documentation which successfully passed internal and external (Big-4) audits.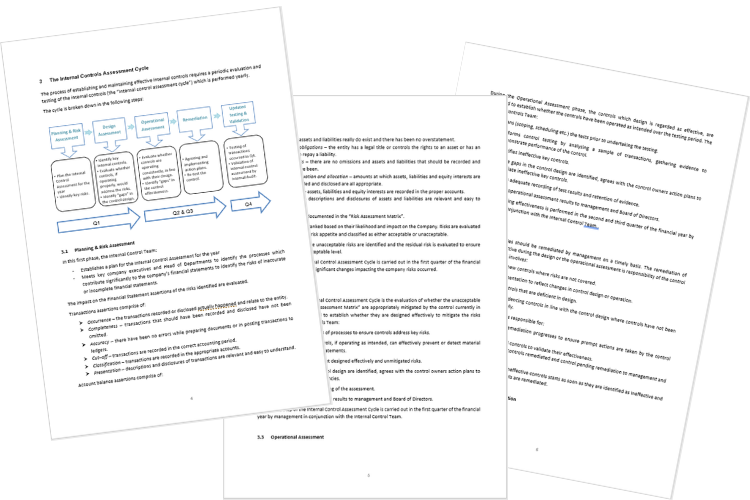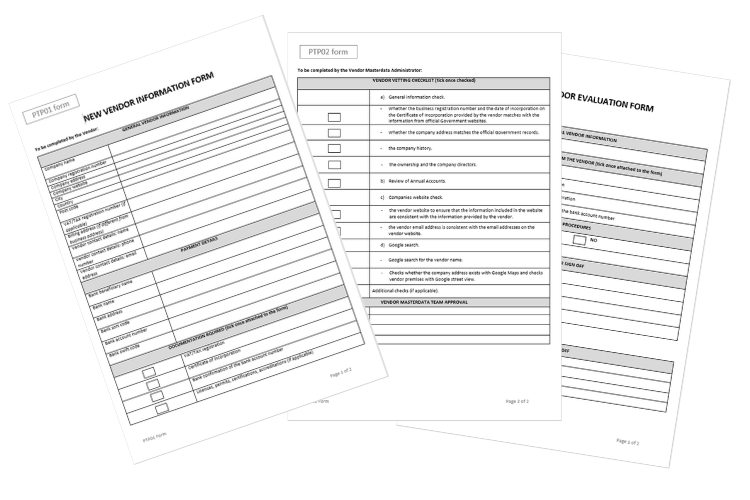 Our 25 procedures and forms cover 11 core business processes. From Order-to-Cash to Inventory Management. From Treasury to Financial Statement Closing.
Perfect for:
Efficient Internal Control Professionals who like to work smarter and hate starting from a blank Word document.
Finance Directors who need to quickly create procedures from scratch.
Consultants who are looking to save valuable time and implement quality process documentation for their clients.
Our procedures are not suitable for large corporations while they work very well for small to medium-sized companies.
Inside the Process Procedure Kit

To save time by avoiding to type process narratives/procedures from scratch. With a few tweaks, the procedures are ready to go. 
Procedures cover:
Fixed Assets & Intangibles, Taxes, Financial Statement Closing, Order to Cash, Inventory Management, Purchase to Pay, Travel & Expenses, Payroll, Treasury, and IT.

To help the business create appropriate control documentation and to follow the procedures easier. 
Procedure templates cover:
Fixed Assets & Intangibles, Order to Cash, Purchase to Pay, Travel & Expenses, Payroll, and Treasury.
To feel confident in using each document included in the kit. We guide you step-by-step. 
I had to help the business to document their existing processes in advance of an upcoming audit. The Kit helped us to set up a strong set of documents which was just at the right level of detail. The procedures were clearly written, comprehensive and well structured.
I particularly liked the fact that, for some processes, there were two versions of the process you could choose from. So that I picked what was best suited for my company.
Richard N. - Internal Control Specialist
Write Procedures SMARTER.
Stop agonizing over creating process documentation. Get the Kit.
The PROCESS PROCEDURES Kit
As soon as you buy the products, you will be sent a link to download them immediately.
Will it fit my company business?
While primarily intended for retailers and manufacturing companies, the documents do cover standard business processes in all type of businesses. 
These templates have been used by clients operating in a wide range of industries from TV & Media, to Online businesses. In these cases, you will just need to add wording to cover the business processes which are specific to your industry. For example, if your company is a media production company, you will need to add some wording related to the production of media content and take away the one related to the inventory process (since there is no physical inventory). However, the remaining 95% of the procedures covering all the other processes (e.g. Payroll, IT, Financial Reporting, Purchasing to Pay, Order to Cash...) will not require any major change.
The procedures include a few variations of the same process to account for both manual and automated processes for faster customization.
If you need customized help on tailoring the documents to your specific business, please send an email to info@internalcontroltoolbox.com.
Other than the procedures and forms included in this kit, do you have any other template that I can use for internal control purpose?
Yes - we have:
The Internal Control Implementation Kit to speed up your implementation project. Learn more HERE.
Internal Control Frameworks + Segregation of Duties Matrix for those looking for a ready-made risks & controls template and done-for-you analysis of conflicting tasks. Learn more HERE.
The Internal Controls Tools (dashboards, Internal control Policy, and methodology, risk register, etc...), to quickly set p all the internal control documents you will ever need. Learn more HERE.
Stop the agony of writing procedures from scratch.
Create procedures SMARTER.
The PROCESS PROCEDURES Kit