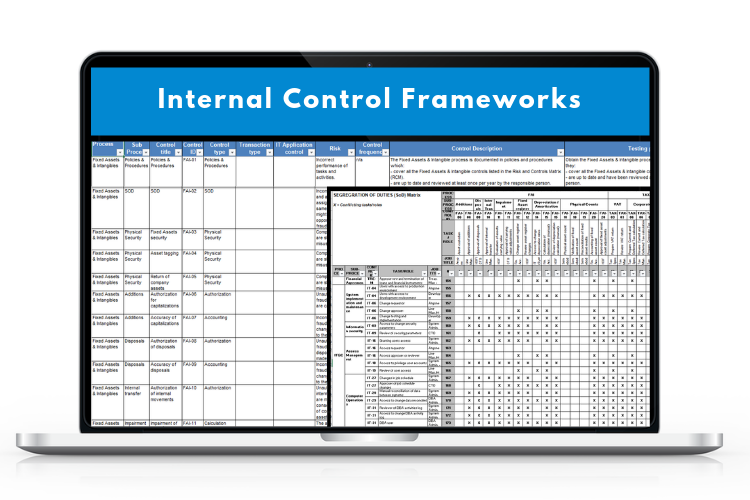 What if you could have a complete but short database of internal controls
ALREADY DONE for you?
Without spending weeks (or longer) to put together one starting from scratch (or from some random control list found on the internet).
...and set them up in just a few hours of work?
You have to put together a risk & control matrix and you have no idea WHERE TO START.

You dread SPENDING DAYS writing risks and control descriptions for each and every control.

You are struggling between including all key controls and KEEPING THE LIST SHORT.

You need to implement internal controls and get the company SOX-ready.

You're NOT SURE how to set up a Segregation of Duties matrix.
Let me guess...you already downloaded some random list of controls from the internet but you found that:
They give you ONLY THE STRUCTURE of the risks & control matrix...and not the actual risks and controls description.

The lists of controls you found are FAR FROM COMPLETE.

The Segregation of Duties analysis you found is LIMITED TO A FEW TASKS.
You have two choices:
1) You WASTE WEEKS trying to adapt the few templates you found on the internet 
OR
2) DOWNLOAD our Internal Control Frameworks and get the job DONE in a few hours.
Comprehensive matrices which cover ALL KEY CONTROLS over financial reporting.

Control and risk descriptions ALREADY WRITTEN for you. Plus detailed testing step for each control.

A Segregation of Duties analysis already DONE for you highlighting key conflicting duties across 11 processes.

AUDIT PROOF documents in compliance with the COSO and COBIT FRAMEWORKS.
With a few quick customizations, your frameworks are DONE.
The Internal Control Frameworks Kit gives you ready-made Risks & Controls Matrices and segregation of Duties Analysis which we developed in over 10+ years of Risks & Control experience.
These top-notch frameworks helped several small to medium-sized companies to implement strong controls over financial reporting, in compliance with the latest COSO and COBIT Framework, and successfully pass internal and external (Big-4) audits.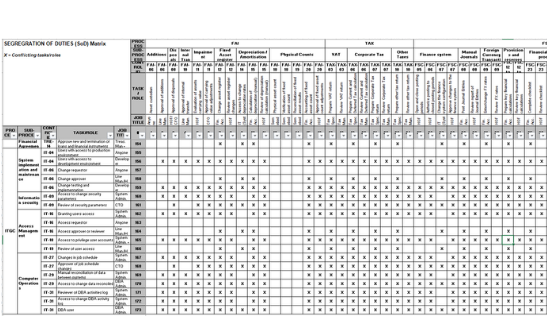 Our control frameworks and segregation of duties matrix will help you quickly get started on Risks & Controls analysis. 
Perfect for:
Efficient Internal Control Professionals who don't like to put together risk & control matrices from scratch. 
Finance Directors who don't know which key controls to focus on to minimize risks.
Consultants who are looking to start their internal control project from a solid (and audit-proof) control framework.
Our frameworks are not suitable for micro-companies and large corporations while they suit very well small to medium-sized companies.
Inside the Internal Control Frameworks

To build a Big-4 audit proof Risks & Controls Matrix in line with the COSO Framework and the COBIT Framework.
It includes 240 operational controls (+individual testing steps) covering: Fixed Assets & Intangibles, Taxes, Financial Statement Closing, Order to Cash, Inventory Management, Purchase to Pay, Travel & Expenses, Payroll, Treasury, and IT.
The Framework includes a few variations of the same controls to cover both manual and automated versions of the same control.

SEGREGATION of DUTIES MATRIX
To quickly analyze tasks allocation and identify conflicting duties.
It includes 173 key duties over 10 core business processes (Fixed Assets & Intangibles, Taxes, Financial Statement Closing, Order to Cash, Inventory Management, Purchase to Pay, Travel & Expenses, Payroll, Treasury, and IT).
+ One already-done example (which you can just tweak for your company)
ENTITY LEVEL CONTROLS MATRIX
It includes 40 controls in line with the latest COSO Framework and tested in countless audits. 
To feel confident in using each document included in the kit. We guide you step-by-step. 
I bought the Internal Control Implementation Kit when I joined a fast-growing company. I had to build the Internal Control Function and implement controls in a short time. I SAVED LITERALLY MONTHS OF TIME by starting from the documents included in the kit. I did some minor amendments to tailor them to our business, but 90% OF THE STUFF DIDN'T NEED ANY CHANGE!
Jess Z. - Internal Control Manager
Create Risks & Controls Analysis SMARTER.
Download our Internal Control Frameworks NOW.
As soon as you buy the products, you'll be sent a link to download them immediately.
Will it fit my company business?
While primarily intended for retailers and manufacturing companies, the documents do cover the basics of internal controls over financial reporting implementation in all type of businesses. 
These templates have been used by clients operating in a wide range of industries from TV & Media, to Online businesses. In these cases, you'll just need to add controls covering the business processes which are specific to your industry. For example, if your company is a media production company, you'll need to add controls related to the production of media content and take away the controls related to the inventory process (since there is no physical inventory). However the remaining 95% of the controls which are related to all other processes will be the same (e.g. Payroll, IT, Financial Reporting, Purchasing to Pay, Order to Cash...).
The Control Frameworks include a few variations of the same controls to cover both manual and automated versions of the same control.
If you need customized help on tailoring the documents to your specific business, please send an email to info@internalcontroltoolbox.com.
Other than the procedures and forms included in this kit, do you have any other template that I can use for internal control purpose?
Yes - we have:
The Internal Control Implementation Kit to speed up your implementation project. Learn more HERE.
The Process Procedures Kit to quickly set up all the procedures to document business processes. Learn more HERE.
The Internal Controls Tools (dashboards, Internal control Policy, and methodology, risk register, etc...), to quickly set p all the internal control documents you will ever need. Learn more HERE.
Stop the agony of building internal control frameworks from scratch!
Get the Internal Control Frameworks.